We had an absolutely amazing second season for Challenger League. But you know, sometimes it's just difficult to grasp how amazing it was just saying "it was amazing". With a 10 week long season and a usual reader attention span of maybe 3 minutes, you need some FACTS to show that!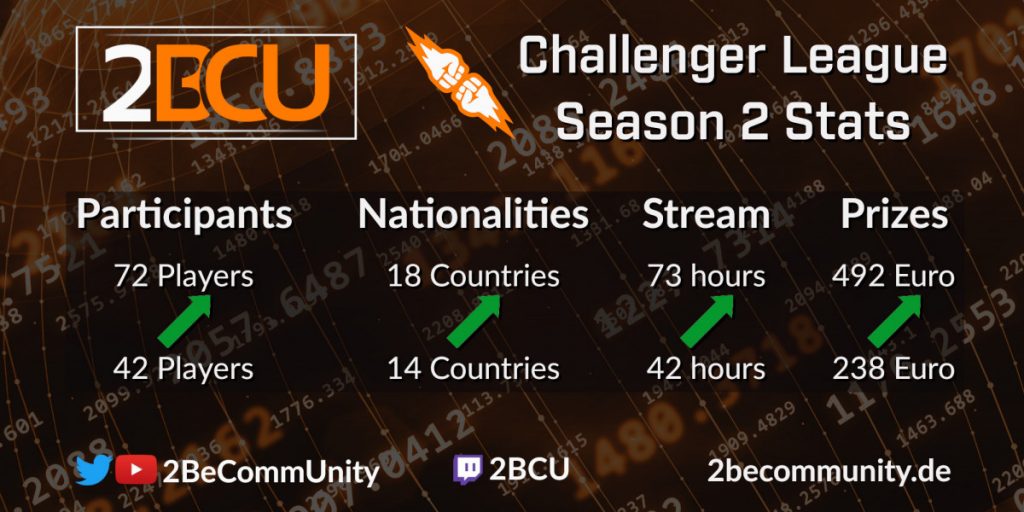 So before we run out of time, let's have a look at what we had in store for you:
10 Weeks
4 Games
72 incredble players
18 Nationalities
4 Champions
1 Two time champion
12 Amazing commentators
39 Match days
229 Matches played
73 Hours streamed
2.381 Unique viewers
492€ Paid out
Summary
Overall Challenger League Season 2 was a big success. Not only did we had over 30 players more compared to Season 1, but grew from 14 to 18 countries being represented as well. Also the prize pool more than doubled from 238€ to 492€! This is all thanks to the amazing support from the commentators, players and viewers. Thank you so much for your support once again and let's keep doubling the prize pool!
It's just incredible to see how international Challenger League is and we hope to welcome players from all European countries at some point. We probably won't get the pope to join our tournaments though. But who knows?
About Season 3
Challenger League will return with Season 3 starting July 12th. We will host the following three games this time:
Guilty Gear Strive
Under Night In-Birth Exe:Late [cl-r]
The King of Fighters 2002 Unlimited Match
We're happy to welcome back UNICLR and KoF02UM and have high hopes for Guilty Gear Strive to continue the legacy of Guilty Gear Xrd.
One thing is certain: With your support and these great games we'll CRUSH Season 2 statistics next season!
See you in Season 3 and don't forget to sign up in the meantime!
Your 2BCU team